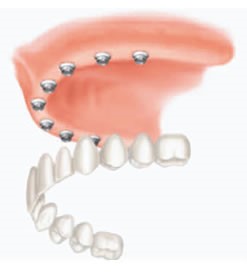 Are you missing teeth and want a beautiful smile again?
Perhaps you have trouble eating certain foods?
Do your dentures slip at the most embarrassing moments?
A staggering amount of people in Ireland wear some form of dentures and many suffer the embarrassment of trying to adapt to what is in essence a foreign object in the mouth. Looseness and discomfort are common complaints, but more important are the psychological aspects linked to wearing false teeth. Often one of the most practical solutions is a Dental implant: implants can produce impressive results and are far more superior to bridge work.